Post by Rock N' Roll God on Oct 30, 2020 21:23:22 GMT -6
Day:
October 30, 2020
Arena:
ECWF Arena in West Hollywood, CA
---
Dark Tiger vs. Ken Hazzard
This match was going Dark Tiger's way for the most part. But with Jay Reynolds scarring off Lynn Starr and then Siegfried coming down. The numbers game was too much for Dark Tiger and Ken Hazzard hits Fatality for the .1 ..2 ...3!
Winner:
Ken Hazzard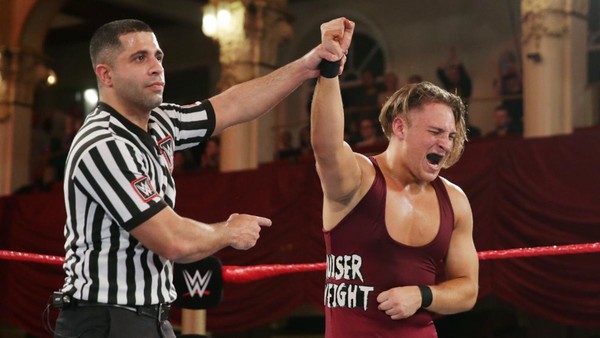 ---
SEGMENT
The camera fades in to reveal a scene far removed from the normalized chaos that was West Hollywood. Instead, a singular raven in flight is the camera's primary focus as it effortlessly soars above a sea of lush greenery that is composed of healthy trees. Suddenly, the dark-colored creature descended rapidly before deftly landing upon a long spindly, low hanging branch. Slowly, almost timidly, the raven makes it's way further down the branch before it descends once more; landing upon the arm of an exquisitely handcrafted Oaken throne. Yet, as one might expect, the focus once against shifted; this time to the oddly alluring woman that sat upon the forest throne. Dressed in a long flowing black dress, the woman's striking features demanded the attention of all that looked upon her visage. Yet, despite the woman's allure, there was nothing except silence as she kept her demanding gaze fixated upon the camera.
Suddenly, the camera abruptly went black; a phrase and a symbol appearing for several moments before the video ended in full.
To my allies I am strong and true;
to my enemies I am wicked and cruel;
I am both witch and banshee;
I am The Morrigan.
You, ECWF, can call me Claire Hawk
---
Horror-Core Rules match: Siegfried vs.Victoria Scott
Siegfried never left the ringside area and neither did his The Age of The Fall members! The ECWF crowd in shock as the fact intergender matches aren't a normal thing in ECWF. So when Victoria Scott came down and fought Siegfried they where just shocked. Victoria Scott gave it her all but with Mike & April no where to be found Jay, Ken, & Siegfried beat the crap out of her, Siegfried hits Darkness Falls, and got the .1 ..2 ...3!
Winner:
Siegfried
---
Trios Championship match: Daniel Dream, Evan Moore, & Poseidon(c) vs. Alina Bullard, Syko, & Ashley Bullard
This match was no different from their last title defense at the last show. The Trios champions were a well oiled machine. In the final minutes of the match Evan & Poseidon lift Syko onto Daniel Dream's shoulders and as Daniel Dream is slamming for a powerbomb, Poseidon & Evan Moore are guiding Syko down to the mat hard. Daniel Dreamm scores the .1 ..2 ...3!
Winners:
Daniel Dream, Evan Moore, & Poseidon
After the match
(Kiara Rayne came out and said.)
"ECWF CEO"
Kiara Rayne:
The going around rumor is you want my job. Well now me, Kris, and RNRG agreed that if you want my job you are going to have to earn it. By order of ECWF management, i will assemble a team and so will you. Whoever wins will become ECWF CEO! Also this is going to be....
(She points to the big screen.)
"ECWF CEO"
Kiara Rayne:
Thats right a All or Nothing War! Now meet the two members I choose.
(Syko & Alina Bullard laid all three men out with chairs and the three of Syko, Alina, & Kiara are laughing to the fallen Team Resurrected!)
---
Women's World Championship match: Heather Haze(c) vs. April Dimter
After all the trash talking on social media and the screams in the ring. This match was simple, Haze got owned by April Dimter. April Dimter slapped Heather Haze around all over the ring and ringside area. There was almost a count-out but April saved it. April hit Haze with All Day from the top rope to get the .1 ..2 ...3!
Winner:
April Dimter
After the match
(RNRG is shown on the big screen.)
Rock N' Roll God:
You mean to tell me with all that trash talking on twitter and giving you your own special night! This is how you repay us by giving us the worst match in ECWF Revolution history! Well Ms. Haze YOU"RE FIRED!!
(RNRG lead the crowd in a Na Na Na Na Hey Hey Hey Goodbye as Heather Haze left ECWF.)
---
Gold Rush Contract Cash In: Johnny Vegas(GRC Holder) vs. Mike Dimter (World Heavyweight Champion)
Before the match
(RNRG announces that if Johnny Vegas wins the World title match at the next PPV will be a four-way elimination match with Marco Rossi & Dan Anderson getting their rightful shots. But if Johnny doesn't then it becomes a 3-way dance for the World Heavyweight title.)
This match was one. These two men duke it out. They gotten over to the announcer's desk and the timekeeper's area and Marco Rossi & Dan Anderson did nothing because they didn't want to ruin this match. The match ended after the 3rd What Happens in Vegas on Mike Dimter and Johnny Vegas scores the .1 ..2 ...3!
Winner:
Johnny Vegas
After the match
(That mysterious gang of men came out and surrounded the ring. Marco Rossi ran down to help but it wasn't good as the gang took him out before he got to the ring and the gang surrounded Johnny Vegas leaving him beated up as the show came to a end.)