Post by Rock N' Roll God on May 2, 2021 6:57:32 GMT -6
Date:
April 30, 2021
Arena:
"ECWF Arena" in West Hollywood, California
---
Show Opening
(The scene opens to a jammed pack ECWF arena. "Invincable" by Adelitas Way. Fireworks shoot from the stage.)
(Once the fireworks settle down the scene goes to Matt Weiser & Demon down at ringside.)
(Matt Weiser is the first to talk to open the show.)
---
Opening Match: Marco Rossi vs. Evan RushWinner:
Evan Rush
---
Maria Salvatore vs. April DimterWinner:
April Dimter
---
William Frenzy vs. Dark TigerWinner:
William Frenzy
---
Horror-Core Rules match for the Horror-Core Championship
Matthew Frenzy vs. TJ Alexander(c)
Winner:
Matthew Frenzy(new champion)
---
Segment: The Power Brand enter ECWF
(Friday Night Revolution returned from a commercial as Maxwell and Michelle Powers stood in the ring, microphones in hand. An eruption of cheers came from the crowd as Maxwell looked around.)
MAXWELL POWERS:
What a night it's been, the Horror-Core Rules match for the Horror-Core Championship was simply bloodfest perfection! But what I'm looking forward to the most is the World Tag Team Championship match and the face-to-face confrontation between ECWF Champion Damon Cross and Mark Frenzy! I'll admit, none of them come near the history making 5-Time ECWF World Heavyweight Champion, the one man that Damon has not had the chance to defend against, the ECWF Hall of a Famer, Kevin Hunter!
But this face-to-face confrontation is a
must
watch! Damon Crss has been a dominate ECWF Champion, could Mark Frenzy be the one to end his reign?
MICHELLE POWERS:
But babe, what about tonight's main event, the long awaited ECWF Women's Championship match when the number one contender Crystal Zdunich gets her title shot against the Witch--the current reigning and defending ECWF Women's Champion, Claire Hawkins! A match that could just have the entire world talking about our women's division! A match that could easily steal the show!
(Maxwell nodded, smiling as the crowd let out a roar of cheers.)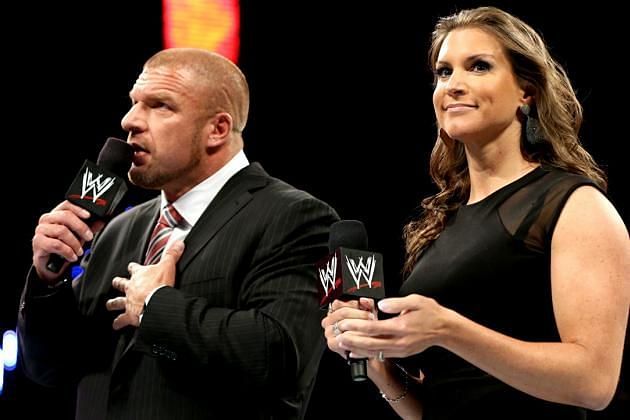 MAXWELL POWERS:
And what about Rockin' Lunatic in action once again! A new beginning has begun ladies and gentlemen, tonight is just the beginning... the beginning of the Powers Brand bring ECWF back to greatness! A new beginning for every superstar in the back, a new beginning to make an impact that could make you as
star
! This is the start that ECWF needs, a new Powers Brand taking ECWF into the future it needs to be in to thrive and survive another 5 more years! Welcome to a New Era...
"THE NEW REGIME OF THE
POWERS BRAND HAS BEGUN!"
(Both smile proud of what they have accomplishned so far as the crowd let out a roar of cheers as pyro goes off, Maxwell looked pretty impressed, they continued to stand in the ring looking around at the cheering crowd, Maxwell whispered something to Michelle…)
---
World Tag Team Championship matchThe Kingdom
(Matt Dimter & Kris Dimter) vs.
The Left Hand
(Daniel Dream & Poseidon)(c)
Winner:
Daniel Dream & Poseidon (retained)
---
Segment: Damon Cross meets Mark Frenzy
("Epic" by Faith No More echos through out the arena as Mark Frenzy enters from behind the curtain. The fans boo him loudly as there isn't a quiet person in the crowd. Mark almost struts out in a nice looking Armani suit. Its grey with a black undershirt and tie to match. The shoes that he has on are also black. He looks around as the fans don't know what to think of him. He smirks a bit as he doesn't care. He turns around and points to the back of his shirt and it says. We run this place and own it all. He's walking in a very confident fashion. He's letting all the people know that he's the man. It is of course without saying it. He comes to the ring apron and smiles wide. He then walks over to the steps and slowly walks up them. He is still in awe of the fact the fans haven't stopped booing him. He stands on the apron and leans against the ropes and throws his hands on the sky. He does this motion kinda like a NFL referee does to signify a player has scored a touch down. The fans boo him louder as he steps threw the ropes. He poses in the center of the ring. Mark then walks over to the area nearest to the time keeper and asks for a microphone. They walk over and hand it to him. He walks back over to the center of the ring.)
"Remarkable"
Mark Frenzy:
Well, here are live on Friday Night Revolution. I figured I'd come here and speak my piece. It's what people do these days or something like that. For 20 plus years I have done what I needed to do in this ring to get the job done. Day in and day out, night in and night out. There were times I was in two maybe three matches a night. I was put in quality work. I am the best all around performer in this company and I'll a step further in this business. I have made my triumphant return here and we'll the old place isn't as I remember it. I mean there are some familiar faces and I do have some gold.
(Mark opens up his suit jacket and reveals his trios championship. He polishes it a bit so it shines and he smiles as Mark continues.)
"Remarkable"
Mark Frenzy:
Then I remember my debut here and wouldn't you know it. I won a championship and now here we are again. I am right where I should be. It has been six years since I have held that championship. It's a title I have never lost and now. I want that belt back more than anything and don't even get me started on the current champion Damon Cross. I want my shot at that championship….
(Frenzy is cut off, however, as "Rise" by State of Mine starts to play over the PA system. The fans cheer as ECWF World Heavyweight Champion Damon Cross comes out onto the stage.)
(Frenzy looks a little perturbed, but smirks at the champion as he makes his way down the ramp and enters the ring. Taking a microphone from his jacket pocket, Damon walks right up to his would-be challenger, keeping a respectful distance but not taking his attention away from Frenzy. He looks one-third of the Trios Champions over, cracks a small smile and shakes his head. "Rise" fades out after a moment, leaving only the rumble of the fans in the background. Unstrapping the title from aruond his waist, he drapes it over one broad shoulder and starts in.)
"The Champ"
Damon Cross:
By all means, Mark... get started on Damon Cross. Tell the world what you think of the man who won the Wartime Rumble and marched into Starrcade to topple Dan Anderson to become the new World Heavyweight Champion. A man who then fought five opponents in one night for a chance at championship gold and took THAT title as well in Three Stages of Hell. But... make sure you leave in the parts about your jealousy, about your covetous thoughts where it pertains to this title over my shoulder.
(But the Team Epic member does none of that. Instead, he puffs his chest out, inclines his chin and stares right into the face of the Redeemer. Likewise, Damon doesn't turn a hair from the man before him.)
"The Champ"
Damon Cross:
No? You're all finished? Fair enough.
(Dusting off the title a little, Damon brings the stick up again.)
"The Champ"
Damon Cross:
You want a shot at this, Frenzy? All you had to do was ask. Not troll around on Twitter trying to start problems, not by addressing my fiancee... just ask. I'm not a hard man to find. Look for the gleam of gold under the spotlights or just knock on the locker room door and ask to see the best wrestler in the business. They'll point me out without hesitation.
(He grins a little, but it goes away, turning into a grimace.)
"The Champ"
Damon Cross:
What happens now, though, is that you have to earn it. How you do that, I'll leave up to Rock N' Roll God. It's his house. I'm not sticking my hand in his fridge without permission. Who knows, though... maybe he'll just hand you the shot. If I were you, though, I wouldn't take that offer. Not as a handout. I'd fight for it, so that I knew, deep down, that I had earned the right to challenge for this title resting over my shoulder. Because when I successfully defend it, you don't want the added shame of not only having been beaten despite all your big talk, but being beaten after having that shot just handed to you. Think hard, Frenzy. Think VERY hard. The choice you make will affect your future in this business to the very end.
(Holding up the title as "Rise" starts again, Damon then leaves the ring and heads back up the ramp and to the locker room, leaving Frenzy to consider his words.)
---
Main Event: Women's World Championship match
Crystal Zdunich vs. Claire Hawkins(c)
Winner:
Crystal Zdunich (new champion)
End of Show